A stunning home is a treasure forever, particularly if it's a beautiful multi-million dollar worth. Some expensive homes across the world are quite impressive not only by their appearance but also because of the luxurious amenities, interiors, and location of the house. Here is the list of the most expensive houses in the world and everyone's dream place to reside in.
1. Buckingham Palace – $1.3 Billion
Situated in Westminster, London, Buckingham Palace holds the prestigious distinction of being the world's most expensive house. Owned by the British Royal Family, it has been the official residence of the UK's sovereigns since 1837. Today, it not only serves as the monarch's residence but also as the official headquarters, solidifying its status as the wealthiest house globally. The expansive palace boasts 775 bedrooms, 78 bathrooms, 52 royal and guest rooms, 92 offices, and 19 staterooms. Covering an approximate area of 828,000 square feet, it also features a 40-acre garden. Should it ever be listed for sale, the palace's estimated value stands at a staggering $1.3 billion, reinforcing its position as the world's most expensive palace
Unknown fact: There are secret tunnels running beneath the surface that connect the palace to nearby streets.
Estimated value: $1.3 billion
Location: Westminster, London
Owner: The reigning monarch in right of the Crown

2. Antilia – $1 Billion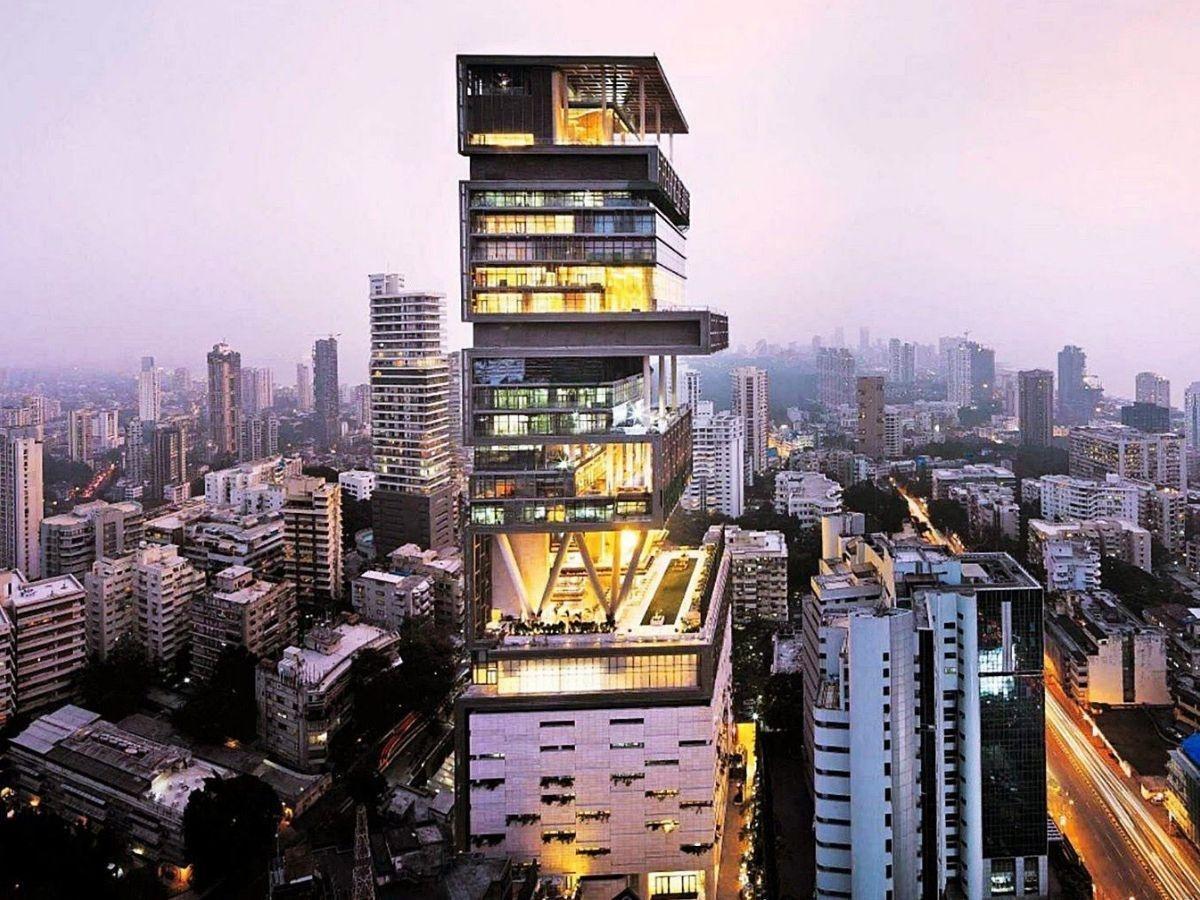 Situated in Mumbai, India, Antilia ranks as the world's second most expensive house, topping the list of the most luxurious homes globally. It is the residence of India's wealthiest individual, Mukesh Ambani, who serves as the Chairman & Managing Director of the Fortune Global 500 company, Reliance Industries Limited. The esteemed architecture firm Perkins & Will, based in Chicago, alongside the hospitality design firm Hirsch Bender Associates, meticulously designed and constructed the mansion.
Spanning 400,000 square feet, this opulent home graces Mumbai's prestigious Cumballa Hill neighbourhood, soaring 27 stories high. Engineered to withstand earthquakes measuring up to 8 on the Richter scale, Antilia epitomizes robustness and grandeur. Six extensive floors are solely dedicated to accommodating vehicles for the owner and guests. The mansion's lavish amenities include a health spa, an ice cream room, a temple, a 50-seat movie theatre, a salon, three helipads, and a grand ballroom. Over 600 staff members maintain and manage the expansive estate, ensuring seamless operation and impeccable service.

Unknown fact: The building has a snow room to beat the heat.
Estimated value: $1 Billion
Location: Mumbai, India
Owner: Mukesh Ambani
3. Villa Leopolda – $750 Million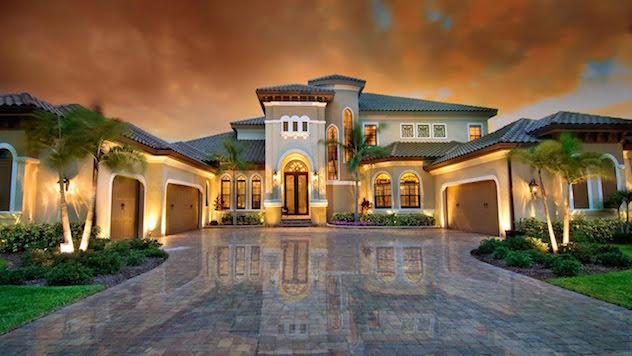 Villa Leopolda, standing as the third most expensive home globally, is another extraordinary addition to the list of the world's most lavish residences. Nestled in the French Alps-Maritime department within the Cote d'Azur Region, this magnificent villa is the property of Lily Safra, the widow of Lebanese-Brazilian Banker Edmund Safra.

The villa's name traces back to its initial owner, King Leopold II of Belgium. It underwent a significant redesign in the 1920s by the renowned American architect Ogden Codman Jr. The sprawling estate, spread across a vast 50 acres, houses 11 bedrooms, 14 bathrooms, a helipad, a commercial greenhouse, an outdoor kitchen, and an astounding 12 swimming pools. Its fame is further bolstered by Alfred Hitchcock's 1955 film, 'To Catch a Thief,' which was filmed on its picturesque grounds, enhancing its global recognition and allure.
.
Estimated value: $750 Million
Location: Leopold, France
Owner: Mikhail Prokhorov

4. The One- $500 Million

Aptly named so, The One is one of the costliest houses in the world. Being one of the world's most expensive houses definitely has its perks. The entire space is just a palatial bungalow with multiple kitchens and 9 bedrooms for the host.
Estimated value: $500 million
Location: California, United States
Owner: Nile Niami

5. Villa Les Cèdres – $450 Million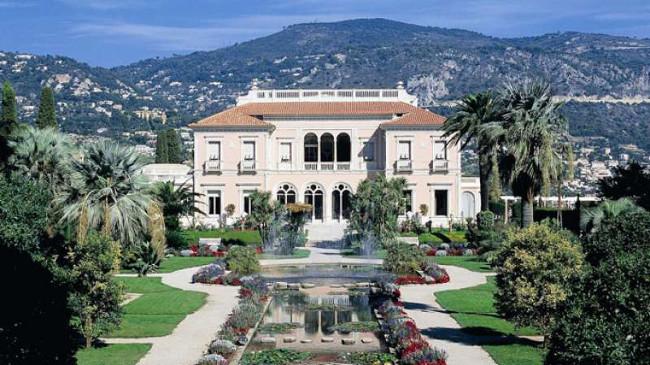 Villa Les Cèdres, positioned as the fourth most expensive house globally, is situated in the serene locale of Saint-Jean-Cap-Ferrat, France. Constructed in 1830, this historic villa was acquired by King Leopold II of Belgium in 1904. Set amidst approximately 35 acres of lush gardens, the villa spans around 18,000 square feet.
It boasts 14 luxurious bedrooms, an Olympic-sized swimming pool, and a spacious stable with the capacity to house 30 horses. The villa's interior is adorned with exquisite crystal chandeliers, timeless 19th-century oil paintings, and a comprehensive library housing around 3,000 books, reflecting the grandeur and elegance of a bygone era.
Estimated value: $450 Million
Location: Provence-Alpes-Côte d'Azur, France.
Owner: Rinat Akhmetov
6. Witanhurst, London: $450 Million
This home is currently under renovation, but once ready, it will be the second most valuable home in London, coming in after Buckingham Palace. The interiors are 90,000 square feet and it rests on an eleven-acre plot in Highgate. This is a very wealthy hilltop neighbourhood in London, and thanks to its location and size, it is valued at a whopping $450 million.

It was first constructed between 1913 and 1920 for an English soap baron Arthur Crosfield. The house was designed in the Queen Anne style, it had twenty-five bedrooms, a 70 ft. long ballroom, and a glass rotunda. It had the best views in all of London and also some of the best parties were held here, the Queen used to visit too! The new owners are renovating this fantastic mansion as it was in shambles, they are a mystery but the rumour is that they are a wealthy Russian couple. We can't wait to see what the new Witanhurst looks like.

Estimated value: $450 Million
Location: London
Owner: Andrey Guryev

7. Les Palais Bulles – $390 Million
Le Palais Bulles, also renowned as the "Bubble Palace," stands as a masterpiece designed by the Hungarian Architect Antti Lovag, constructed between 1975 and 1989. The unique nickname stems from its distinctive series of round rooms that offer breathtaking views of the Mediterranean Sea.

Today, the illustrious Pierre Cardin, an Italian-born French fashion designer, owns the Bubble Palace. The property is adorned with three swimming pools, multiple gardens, and a 500-seat amphitheatre gracefully set within the hillside. Beyond serving as a luxurious holiday home for Pierre Cardin, the palace is a sought-after venue for exclusive parties and notable events, solidifying its place among the world's most expensive and exquisite homes.

Estimated value: $390 Million
Location: 06590 Théoule-sur-Mer, France
Owner: Pierre Cardin

8. The Odeon Tower Penthouse – $330 Million
The Odeon Tower Penthouse stands as one of the world's priciest homes, with an estimated worth of $330 million. Crafted by the renowned architect Alexandre Giraldi and constructed by Groupe Marzocco, this luxurious abode spans multiple levels, each accessible by a private lift. The penthouse boasts a rooftop deck and pool, featuring a private water slide that descends one story directly into an awe-inspiring infinity pool, epitomizing the height of luxury and innovative design.

Estimated value: $330 Million
Location: Golden Citadel of Monte Carlo
Owner: SCI Odeon, a subsidiary of Groupe Marzocco

9. Four Fairfield Pond – $248 Million
Four Fairfield Pond is the dwelling place of Ira Renner, owner of the Renno Group. It is a holding investment company in smelting and production. The 63-acre home is equipped with 29 bedrooms, 39 bathrooms, a 91-foot dining room, a basketball court, squash courts, tennis courts, a bowling alley, and three swimming pools. To control the mansion, it needs a massive amount of electricity. The place has its own power plant located on-site to fulfil its needs. To people out there who love their cars, Four Fairfield Pond has a garage that can handle about one hundred cars!

Unknown fact: the mansion has its own 164-seat theatre.
Estimated value: $248 Million
Location: Hamptons, Long Island, USA
Owner: Ira Rennert


10. One Hyde Park – $209 million
Owned by Rinat Akhmetov, this luxurious residence in London, valued at £136.4m or $209 million, holds the record as the most expensive flat ever sold. The two-story penthouse, located in the renowned One Hyde Park, boasts two wine cellars, heated marble floors, and dedicated parking and storage areas within the apartment complex.
Situated next to the Mandarin Oriental Hotel, which provides room service to One Hyde Park residents, a rumoured tunnel connects the two establishments. Other notable residents of this opulent building include the Qatari Prime Minister Sheikh Hamad bin Jassim, underscoring the exclusivity and affluence of this residence.
The penthouse offers a nearly 360-degree panoramic view of the city, spanning from the river to the park and the lake. This 25,000-square-foot triplex penthouse places paramount importance on safety and security. It features bulletproof glass windows, 24/7 security, and lifts equipped with iris-recognition technology, ensuring unparalleled security and privacy for its esteemed residents.
Estimated value: $209 million
Location: 100 Knightsbridge, London SW1X 7LJ, United Kingdom
Owner: Boutique Rolex

11. Ellison Estate – $200 Million
The owner and founder of Oracle – Larry Ellison has one of the most expensive houses in the world, it is a 23-acre Japanese-style estate and comes with a manmade lake, a tea house, a bathhouse and a koi pond, this was because it is modelled after a 16th-century Japanese imperial palace.
The estate was so large and had so much work done that it took 9 years to complete. Each building is not that large, the main house is only 8,000-square-ft, it has a boat dock that divides the public side of the home which is used for entertaining, from the private. There are also two guest cottages and a few other structures.

What's unique about the Ellison Estate is the attention to detail, the structures don't use nails, and have mud-covered walls, they are so strong that they can survive an earthquake of up to 7 Richters. The 2.3-acre lake manmade lake needed a lot of work to be done and for landscaping alone, there were 10 million pounds of rocks that were brought in. There is even a small waterfall that was created and machines to recreate a fog effect to bring in more authenticity to the home.
Estimated value: $200 Million
Location: Woodside, California
Owner: Larry Ellison

12. Seven The Pinnacle – $155 Million
One of the best houses in the world, Seven the Pinnacle is a palatial property located in Montana. This is one of the most expensive houses in the world that has a private golf and ski community inbuilt.

Estimated value: $155 million
Location: Montana, United States
Owner: Tim Blixseth

13. Xanadu 2.0
Owned by one of the richest men in the world, Xanadu 2.0 belongs to Bill Gates. The richest man has one of the richest houses in the world which covers 66,000 square feet.
Estimated value: $127 million
Location: Washington, United States
Owner: Bill Gates


These are some of the world's most expensive houses. All of these properties have one thing in common, they are filled with ultra-luxurious amenities. With years of hard work and success, these personalities have built their dream home. If you're looking for your very own dream home. Get a consultation from professionals here. Click here